The ability to multitask is a respected skill that a business owner must possess. High-quality logo mats are a wise investment for any business. These multi-tasking mats not only protect flooring from dirt and moisture, they also act as an advertisement tool to promote a business's brand, values, and message. There are several types of mats to choose from.
The Classic Logo Mat
The classic logo mat is vibrant and stylish. It is guaranteed to catch a customer's attention. The logo is the primary focal point of the mat, along with a wide border, that draws attention to the design. The logo placed on the front portion of the mat, can be done in a traditional white or black color, or spruced up with other color patterns. This mat should be used indoors. It should be placed in medium-traffic areas.
The WaterHog Signature Mat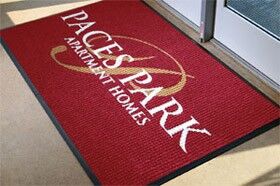 Function and fashion come together with the WaterHog signature mat. This mat is designed to trap up to a gallon and a half of water per square yard. Its water trapping abilities makes it an ideal matting choice for entryways.
The image or logo that you choose to display is created by using multiple carpet colors, and weaving them into the surface of the mat. This style of mat is appropriate for indoor and outdoor use. You have the option of having your logo woven into mat, or you can place it in one corner of it.
Scraper Impression Mats
Scraper impression mats are heavy-duty outdoor matting solutions that do as their name states. They provide a place where customers can scrape their shoes off, prior to entering your business. These mats are made with molded rubber. It traps dirt and grime deep inside is tread, so it cannot easily be spotted.
Due to the sturdy construction of the mat, it is suitable for use in various locations. The scraper mats can be used in areas where oil or grease products are present. Just like the WaterHog mats, you can choose to have your logo displayed horizontally across the top section of the mat, or placed in a corner. The corner placement provides a subtle way for you to display your businesses brand.
The Prestige Logo Mat
If you are watching your businesses overhead closely, the Prestige logo mat is an inexpensive choice. The mat is made of nylon material and features a rubber backing. You can display your businesses name, message, or logo on the front of the mat, using a variety of color patterns, twenty-seven to be exact.
Make Your Choice
Logo matting options are diverse. When you are deciding on what type of mat to get for your business, you need to determine what your businesses needs are. Does your business receive lots of traffic? Is your budget tight? Do you live in a region where rain and snow are common? These are all questions that you need to consider before purchasing a mat to display your businesses message.
You want to ensure that the mat that you choose will be multifunctional. It should provide you with a free place to advertise your business. It should also provide customers with a comfortable place where they can clean their shoes, before entering your storefront.