Owning and maintaining a restaurant is not an easy feat. It is your responsibility to ensure that the facility is properly ran and the food being offered is safe for human consumption. One area of the restaurant that tends to get neglected is the flooring. Selecting the right type of covering for your floor can increase productivity, safety and reduce maintenance costs.
Restaurant mats impact the comfort of your employees, and the cleanliness of your facility. There are mats that can reduce the aches and pains of standing in one place, and grease-resistant matting options that can help reduce slip and fall accidents. When choosing what mats to use in your restaurant, you need to understand your options.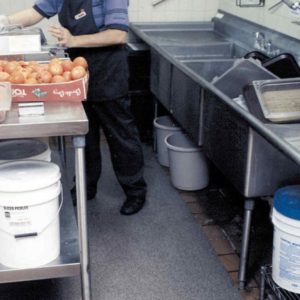 Anti-Fatigue Mats
Anti-fatigue mats are just one matting option that serves a purpose in a restaurant facility. These mats can be used in front of cash registers, or in quick serve facilities. They can provide a comfortable space for your hostesses to stand on when assisting customers.
The mats are designed to reduce stress on an employee's back and legs. They provide an extra layer of cushion that will absorb added force. The mats are available in assorted sizes. An individual mat can be placed by a hostess station, while a larger mat can be placed in the aisles of the restaurant.
Wet Area Mats
It is imperative to keep your restaurant clean and free of moisture. Wet area mats allow you to accomplish this task. These matting options can be used in numerous locations throughout the facility. They can be employed in dishwashing areas, prep areas, coolers, outdoor ramps, or behind bars. Anywhere that is prone to water exposure, would be an acceptable place to lay these mats.
Wet area mats are made from durable rubber materials. They feature a series of drainage holes that liquid can travel through. It is important that water has a place to go. These mats promote drainage of liquids, helping to keep wet areas dry and free of water exposure.
Carpet And Entrance Mats
When customers walk into your restaurant, you want them to feel welcome. A carpet mat or entrance mat can create this feeling. These mats can be used in foyers, entryways, and waiting areas in your restaurant. You have the option of placing your logo on the front of the mat, or simply leaving it plain to match the color scheme of your facility.
Remember that unlike the wet area mats, and the anti-fatigue mats, these mats will be visible. Your customers will see these mats when they are in your restaurant. You not only want to provide them with a comfortable area to walk on, but you also want to ensure that the mat gains positive attention. It should serve a primary purpose of keeping dirt and grime off the floors, but still provide an aesthetic appeal.
Running a restaurant is hard. Aside from worrying about the food and drinks being sold, you also must consider the flooring used. Anti-fatigue mats, wet area mats, and carpeted entry mats are all flooring solutions that should be used in a facility. These mats provide a comfortable and hygienic working environment for your employees, while providing a safe space for your customers.