Logo mats are specially designed floor mats, which are mainly used from brand promotion and other marketing purposes. Logo mats are mainly installed in commercial buildings for advertising and promotional purposes. There are also specially designed logo mats for home use. These residential logo mats usually feature the "welcome" greeting and are usually installed at the main doorway as entrance mats. Some people personalize their entrance mats by including their names and other decorations for aesthetic purposes. But most entrance logo mats are customized with the brand name or logo of a company and installed in commercial settings.
These customized business mats are installed in strategic spaces inside the commercial building where they are highly visible so that they can create a lasting mental impression on visiting clients. There are many strategic spaces where you can install your commercial logo mats to ensure maximum visibility. You can install a logo mat just outside the main entrance of your business premises. You can also install logo mats in the reception area where all clients spend some time. Logo mats should also be installed in various corridors and outside all office doorways. You should even consider installing some logo mats in the elevators. Today you are going to learn strategic ways of using logo mats for brand promotion and advertisement purposes.
To Provide Product Information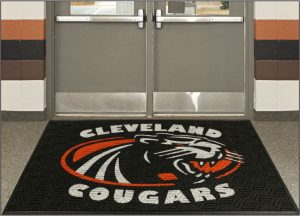 You can create some very colorful and elaborate HD logo mats to provide product information to customers. You will need to get in touch with a highly competent matting company to create this type of logo mat. You logo mats should have clearly printed graphics of your products(s). You can also include useful product information to go with the graphic. You can print product features, benefits, description, and even comparison information on your logo mat. These details should be brief and to the point to ensure fast reading. You want your customers to digest this information as fast as possible. The graphics should be sharp and the colors should be appealing and enticing.
Create Product Awareness
You can also use logo mats to create product awareness. You might be launching a new product and wish to inform your customers about it. Customize your log mats with images and descriptive information of this new product. You can also use logo mats to promote slow moving products. You can try to point customers towards these slow moving products or products that go hand in hand.
To Push A Special Promotion
Logo mats are very effective when you have a special promotion. In fact this is one of the most popular uses of logo mats. If you have a discounted sale or are offering a discount on a certain product or service, you can always customize your logo mats with this information. Clearly indicate whet the promotion is about. And then place the customized logo mat strategically in open spaces and near the item being promoted. Logo mats are used to announce discounts, coupons, special offers, special giveaways, and any other promotional offers.
Influence Purchase Decisions
Like all other promotional media, logo mats are mainly used to influence purchase decisions. You can place your logo mats strategically near certain products and at the checkout counter or point of sale. These logo mats should bear influential information to inspire purchases and encourage impulse buying. Various advertising tactics can be employed here to ensure optimal marketing effect.