Industrial mats are specially designed floor mats that are exclusively used in business or commercial settings. These mats are used in a wide range of business environments ranging from the relatively passive office buildings to all sorts of bustling production sections. Office floor mats are not as sophisticated or as specialized as production site mats because the former are uniformly used to enhance general workplace safety and comfort whereas the latter are designed for a myriad other functional applications depending on the type of industry and the intended purpose. At the production level, industrial mats cater for all kinds of industries including manufacturing, mining, hospitality, marine, healthcare, sports and recreation, entertainment etc. Admittedly, there are many different types of industrial mats spanning every sphere of business or commercial activities.
Applications & Benefits
All industrial floor mats are classified according to several fundamental factors across all industries. The three most popular approaches for categorizing industrial mats are based on their functional applications, their functional value or purpose, and their design attributes. At the most basic level, we have safety/protection mats and anti-fatigue mats. These are the two main benefits of using industrial mats. There are however several other specialty benefits of using floor mats in the industrial sector and the major ones are discussed below.
Safety/Protection Mats
Safety mats are found in passive office workplaces as well as in dynamic production environments. Protection mats combine several design features to solve various safety concerns. The most fundamental protective attribute in industrial mats is slip resistance. Almost all industrial mats are slip-resistant and are hence used to prevent slips and falls in the workplace. There are also other common but defined protective qualities such as chemical resistance to keep workers safe from these elements.  Grease and oil proof mats are also wise choices in many work environments.
Ergonomic Comfort Mats
These are also found in all business or commercial settings and they are meant to alleviate leg or backside fatigue/stress/discomfort due to prolonged sitting or standing sessions in the workplace. Commonly referred to as anti-fatigue mats, these mats are installed in select areas in a building to optimize their ergonomic relaxation effects. Some are installed under work desks, others on the standing space on a production or assembly line, and still others are placed in front of service desks to keep customers comfortable while waiting in line to be served. Heated mats, which are usually complemented with heated stair treads, during cold weather conditions, are good examples of ergonomic comfort industrial mats.
Industry Specific Matting Solutions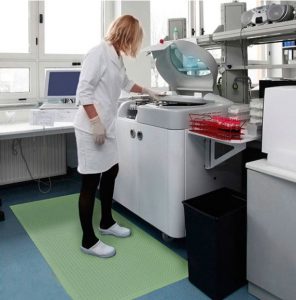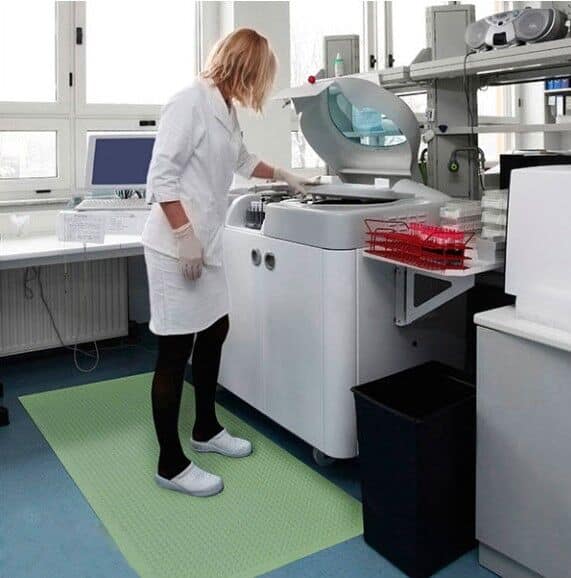 The other class of industrial mats includes all sorts of specially designed floor mats all intended for specific industrial applications. For instance, ESD conductive and dissipative floor mats are used in production sites that produce or feature electrostatic discharge. Industrial sites that are characterized by lots of noisy and vibrations like gyms and mines require noise and vibration reduction matting solutions with special pads for absorbing excessive dissonance to create a comfortable workplace. And finally you need antimicrobial anti-fatigue floor mats to maintain sanitary conditions and ensure comfort in the medical setting.
Message Or Logo Mats
The other application or functional benefit of using floor mats in an industrial setting is communication. Special floor mats called logo or sign mats are used for information sharing in the workplace. They carry general messages like safety and caution signs about electrical hazards and so on or specific or defined instructions, such as access restrictions. They can also be used for advertisement to promote the business and its products.