Matting companies use different matting materials to produce various types of floor mats. Some floor mats require very tough materials like rubber and vinyl to ensure that they serve their purposes satisfactorily. Some other mats require a combination of two or more matting materials to ensure their proper functionality. For instance, outdoor entrance mats are usually produced from two or more matting materials to ensure that they are absorbent and that they offer traction on slippery floors. The three most commonly used materials for producing floor mats are vinyl, rubber, and carpet fiber. Depending on the intended use of your matting products, you can choose from any of these matting materials. We will now look at each of these matting materials and their properties so that you can know the best suited for your specific matting applications or needs.
Rubber
Rubber floor mats are manufactured from natural rubber. Rubber floor mats are very tough and they can last for very long. Rubber floor mats are recommended for high traffic areas, such as commercial establishments. One major advantage of rubber floor mats is that they can be produced in all kinds of designs and surface patterns. This not only makes rubber floor mats very beautiful to look at but it also ensures that they provide traction on slippery floors. One downside of rubber as a matting material is that it does not absorb moisture. Rubber floor mats usually feature tiny surface ridges that guide water and moisture away from the surface of the mat. In order to enhance the functionality of rubber floor mats, most matting manufactures add an absorbent foam or carpet material on the topside of the floor mat. They use rubber as a backing to provide traction and toughness to the mat. Rubber floor mats are quite affordable and they are very useful in providing floor safety and protecting your floors.
Vinyl
Vinyl is another matting material that is very popular in mat production. Vinyl floor mats are produced from a plastic polymer called vinyl. These mats are less expensive to produce and are hence very affordable. And like the rubber floor mats discussed above, vinyl floor mats come in many tasty designs and surface patterns. Mat manufacturers are able to produce any kind of surface pattern on vinyl floor masts. These patterns help enhance traction in the mat and also to make it very beautiful to look at. Like rubber, vinyl does not absorb water. As such, vinyl floor mats can feature a soft absorbent foam material on the topside and vinyl as a tough backing.
Carpet Fibers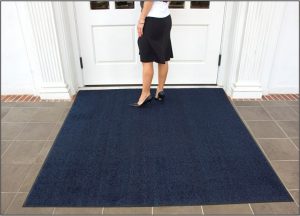 Carpet fibers are also used to produce floor mats. Carpet floor mats feature a clothing fabric with tough fibers on the surface. These mats feature excellent sewing patterns and they come in many different colors. One major benefit of carpet floor mats is that they are absorbent. This means that carpet floor mats are very popular on wet surfaces. These types of mats are usually used as entrance mats to absorb water and moisture from the shoes of users. Carper floor mats can also feature a tough backing made of rubber or vinyl to enhance their quality and durability. Carpet floor mats are used to decorate the interior of many houses because they are very colorful and cozy.