Matting customers can easily be overwhelmed by the many different types of matting solutions that are available in the matting industry today. If you are not aware of the many different types of floor mats that are on offer today and their functional applications or uses, then you will have a hard time choosing the right floor mat for your home or workplace. Matting products are classified according to the type of material used to produce them and their functional application. When it comes to matting materials, there are three main options. You can either choose a rubber floor mat, vinyl mat, or a carpet mat. All these materials offer different advantages to the mat user. For instance, rubber and vinyl mats last very long and they come in many classic designs and surface patterns. Carpet mats are very beautiful to look at but they are not as tough as rubber and vinyl mats. The other key concern when choosing floor mats is their type based on their intended use. We will now look at the different types of floor mats and their uses.
Heated Floor Mats
Heated floor mats are specially designed mats that come with an inbuilt electrical circuit for heating the house. These mats require a power source in order to provide heat and warmth in the house. You simply plug the heated floor mat into a power source and it starts converting the electrical power into heat energy, which helps to heat up your house. Heated floor mats are usually installed indoors to provide warmth during the cold season. They are also installed outdoors to melt ice and snow on walkways during winter.
Logo Mats
Logo mats are specially designed floor mats that are used for business promotion purposes. These mats usually feature the logo or brand name of a company on their topsides to promote brand awareness and to advertise various products. The user orders these mats from a matting company with instructions regarding the logo that will be printed on them. After receiving the mats with logos of your company, you can then install them in any strategic place where customers will be able to see them instantly and regularly so that the brand name or log becomes imprinted in their minds. Log mats can be installed in many different places such as the waiting area or reception space of your company. They can also be installed in doorways, ion corridors, and even in the elevator where visitors will view their marketing message continuously.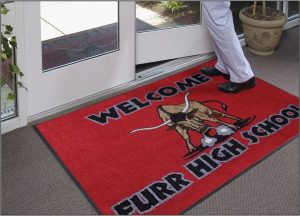 Medical Mats
Medical mats are designed for use in healthcare facilities and other sterilized settings. Medical mats are intended to prevent contamination in the medical world. These mats feature sterilization agents that never get depleted. In addition to preventing contamination in healthcare facilities, medical mats can also offer a host of other functional benefits including slip resistance, anti fatigue, and even noise and vibration reduction.
Entrance Mats
Entrance mats are placed in the main entrance of any house or building. These mats are used to trap dirt, moisture and other debris from outside and prevent it from dirtying the floors in the house. Entrance or entryway mats also provide traction at the doorway thereby ensuring floor safety in any building.