A good floormat is easy to keep clean. Because it is heavy duty and designed to be in a high traffic area, durability and ease of cleaning is part of the product. However, with the heightened emphasis on full cleaning – not just reducing dirt and dust, many people are now coming to Floormat.com to learn how to sanitize and clean their floormats more thoroughly.
Cleaning and Disinfecting Floormats
There are a number of ways to clean a floormat, and how these are done generally depend on the type of floormat you are using. The first obvious way is simply sweeping it clear of dirt and debris. This does not kill germs, but it does keep your space cleaner and looking nicer.
Next is washing the floormat with soap and water. While helpful and maybe good for removing some grease and dirt, this will not do as good of a job of removing germs as would a cleaning disinfectant for floormats, which is designed to kill viruses and bacteria. The fact is, your floormats come into contact with the bottoms of many people's footwear, and that means tracking in all kinds of nasty things. You need a strong cleaner that is safe for people in your location.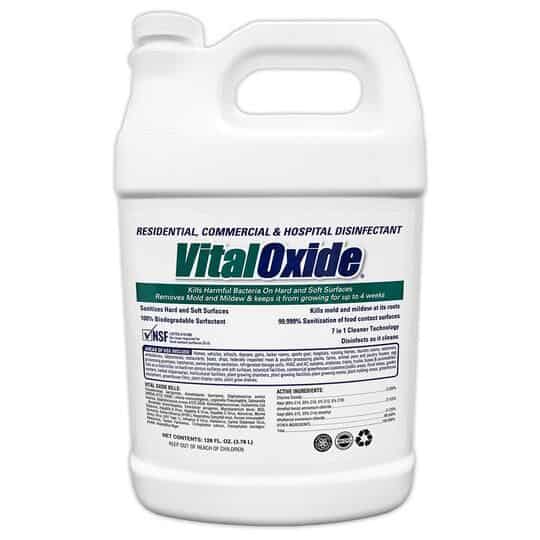 One option is daily spraying of the floormats with a product like Vital Oxide Residential, Commercial, and Hospital Disinfectant – which is odorless and safe, and kills over20 viruses and bacteria, including those that cause COVID-19. These are strong enough for hospitals, gyms and cruise ships, and will do the job in your work place or home as well.
You can spray it on regularly, and you can also deep clean with it to make sure your floor mats are not a source of dangerous bacteria where you work.
Can Vital Oxide Be Used On Other Things?
Yes. The fact is, Vital Oxide can be used throughout interiors to clean, sanitize and disinfect air, surfaces, fabrics, curtains, and furnishings. It eliminates allergens and tough odors as well as mold and mildew. This all-purpose cleaning product can solve many of your cleaning issues and is not going to make your location smell like chemicals or pose a risk for exposure. That is why it is so popular in hospitals. But the very same product works well for cleaning your home as well. Floormat.com offers Vital Oxide in a number of amounts. Please give us a call and we will help you get the size that is right for you.