Guide to using floor matting and floormats in your business.
Floor matting and floormats are very similar and can accomplish the same thing. They make floors less slippery, safer, cut down on noise, reduce slip and fall risk, and can make the environment look nicer. So when is it better to use floor matting and when is it better to use floormats?
The advantage of floor matting is that it usually is designed to interlock and cover an entire surface. This can be very useful for a weight room in a gym, for example. Also a heavily trafficked hallway or entrance where a lot of people may come through at once. One good thing is that this type of floor matting is less likely to move or get an edge flipped up, although using tape can keep floormats down as well.
The disadvantage of using floor matting is that you need to wash them and treat them more like a carpeted area, and it is much harder to move them. This is both an advantage in the completeness, and a disadvantage because it gives up some flexibility. But what makes it better than full carpeting is that you can replace one tile if needed, instead of recarpeting the entire area.
Floor matting is great for some areas where you want to have a larger area more completely covered, but if you want to have something that is more flexible and easier to pick up and clean frequently, then a good quality floormat is much better. Floormats can be branded, can be specialized for different situations, and can even be heated for indoor foot warmth or outdoor ice melt. The scope of floormats is vast and there are solutions for any situation and need.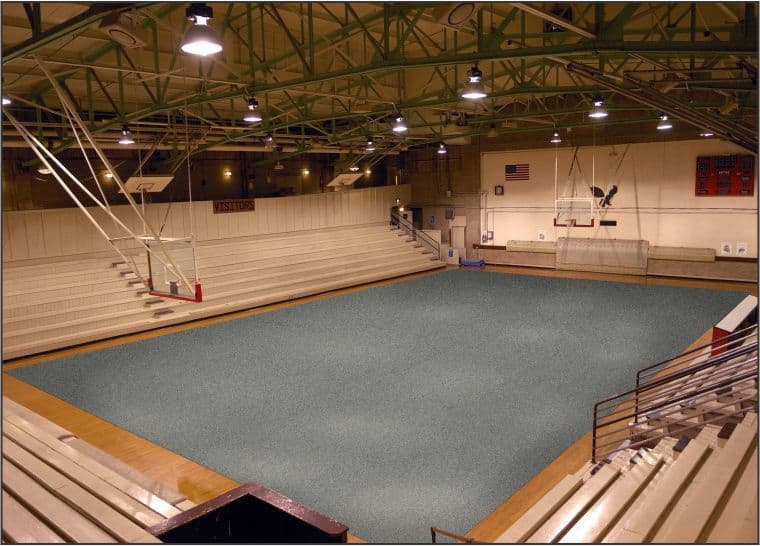 When deciding about flooring options ask yourself these questions:
1) Do I want to be able to move it easily? Choose a good floormat.
2) Do I want to be able to cover a larger area without gaps? Choose floor matting that is interlocking or tiled.
3) Is it high traffic and will need to be replaced frequently? Floor mats, or floor matting if you are comparing between carpet and floor matting.
4) Cost – if you are choosing between cheap floor matting and floor mats, go with the higher quality item that is in your budget. It will last longer, and you will get more value in the long run.
5) You want to protect a large floor, like a gym floor, when using it for multi-use? Then floor matting with floor safe tiles are a must.
This guide to floor matting has been written to help you decide which options are best for your organization. If you have any questions we did not answer here, give us a call. Our experts are happy to help you select the right product. At floormat.com we offer Hog Heaven II Linkable Comfort floor matting, floor safe tile, and floor safe carpet tile cart that has an 80 tile capacity. These can help you achieve your floor covering goals along with our great floormats.