A quality hotel is a place where people will choose to come to relax and enjoy their self. The aesthetics and décor of the facility will impact the experience that guests have. This experience is influenced by the environment, which is where hotel mats come into play. There are five distinct types of mats that can be used to enhance the hotels aesthetics and maintain the building.
Entrance Mats
Businesses get one chance to make a first impression. The initial impression that a person gets of your facility should be a positive one; which is why entrance mats are important. They can be placed inside or outside of your hotel.
The mats serve a practical purpose, helping to keep guests shoes clean. The mat should be absorbent, to trap any moisture brought in from outside. Picking the right size and color mat will make an impact on the hotels motif.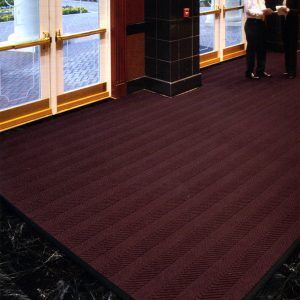 Anti-Fatigue Mats
Anti-fatigue mats can be placed sparingly around the hotel. These mats can be used behind employee counters, in elevators, or in laundry rooms. They are available in wet and dry versions. The wet version will absorb added moisture, while the dry version acts as a cushioned area for employees to stand on.
Runner Mats
Runner mats are vital to the maintenance of hotel buildings. They serve a practical and aesthetic function. Guests will notice these mats, and walk on them frequently, in comparison to others scattered throughout the hotel. Runner mats can be made with a non-slip backing, so they do not slide when stepped on.
The mats can be custom-designed to adhere to the dimensions of the hallways of your facility. The mats can be placed on top of tile or carpet. Their purpose is to protect the flooring underneath from dirt, debris, and damage.
Shower And Pool Mats
To ensure the safety of your hotel, you should always place mats in the shower and pool area of the facility. This will help trap any moisture, and reduce liability concerns. Two matting options for the shower and pool areas are drainable loop mats and tubular mats. Both options are comfortable, provide easy traction, and are easy to maintain.
Fitness Mats
Most hotels provide an area where their guests can work out. Exercising is a strenuous activity. Your hotel flooring will be exposed to moisture. There are several types of mats that can be used in the fitness area in your facility. Preferred mats to use in these areas are interlocking rubber mats, anti-fatigue mats, or anti-slip mats.
The mats can be scattered throughout the area, or placed underneath workout equipment. You can choose to employ a beveled edge on the mat that comes in an assorted color from the mat itself. This will help guests distinguish where the mat starts and ends.
Why Your Hotel Needs Mats
Most people do not recognize how significant mats are to a hotel facility. Hotels are large open spaces that can service hundreds of people at a time. It is important while in your building, that your guests and employees are housed somewhere safe. A few mats placed strategically throughout the building can help maintain the aesthetics of the hotel, and promote safety.