Floor mats are now being used in many different industries to prevent slip, trip, and fall accidents. These mats are referred to as commercial floor mats and they are placed both inside and outside commercial buildings. Commercial floor mats are also used to protect the floors and to keep the interior floors clean and dry. When choosing commercial floor mats, you should also consider the quality, design, color, and shape. You should choose a classic design and a professional color to enhance the professional appeal of your commercial building. There are many different types of commercial floor mats including entrance mats, logo mats, anti fatigue floor mats, ESD mats, and many more. Commercial entrance mats are usually installed inside or outside the main doorway of a commercial building. These mats are used by customers and workers to scrape dirt, debris, and moisture from their shoes in order to keep the interior floors clean. They are also used to prevent slip-and-fall accidents when people are entering the building. Commercial entrance mats can also be used as logo mats for brand promotion and advertising. Commercial entrance mats can be classified according to the material or fabric used to manufacture the mat. The following are the most popular materials for producing commercial entrance mats.
Rubber Entrance Mats
Rubber is one of the most popular materials for manufacturing all kinds of floor mats. Natural rubber is harvested from rubber trees as latex. Rubber is a very tough material. It's mainly used as backing for various types of mats. Rubber is preferred in the production of commercial entrance floormats because it's very strong and durable. Rubber mats are also very easy to clean and maintain. Rubber mats come in many different shapes, designs, colors, and sizes. Natural rubber mats are also eco-friendly. We also have commercial entrance mats made from nitrile rubber. Nitrile is a synthetic rubber copolymer. Natural and nitrile rubber mats are used in many commercial buildings as entrance floor mats.
Carpet Entrance Mats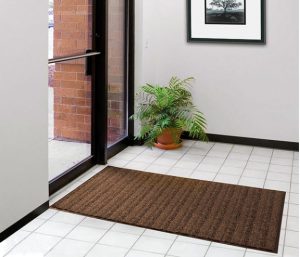 Carpet floor mats are produced from carpet fibers. They are made from many different fibers including nylon and polyester. Carpet floor mats come in many stylish surface designs and colors. Many commercial entrance mats are made from carpet fibers. In addition to providing floor safety and floor protection in the workplace, carpet fiber entrance mats also enhance the beauty of the commercial building.
Polypropylene Entrance Mats
Polypropylene floor mats are made from a thermoplastic polymer. These mats are made from a very durable material that is very strong and effective. As mentioned above, commercial polypropylene entrance mats are used to enhance floor safety by preventing slip-and-fall accidents. Poleplene floor mats are stain resistant and they last for very long. They usually come with a rubber backing to enhance traction and to prevent the mat from moving on the floor, which is another example of how they make useful anti slip mats.
Vinyl Entrance Mats
Vinyl floor mats are made from a synthetic plastic polymer called polyvinyl chloride (PVC). Vinyl floor mats are used in many different applications both indoors and outdoors. Commercial entrance mats made from vinyl are very effective in the scraping of dirt, debris, and moisture from the soles of the shoes of people visiting a commercial building. Vinyl mats last for a very long time and they are also quite cheap to produce.