Floor mats are great for floor safety. However, sometimes it makes more sense to use an abrasive tape to create an anti-slip environment.
The good news is that Floormat.cm is where you can buy floor mats AND anti-slip tape because we are the floor safety specialists.
Uses for Anti-Slip Tape
Anti-slip tape is heavy duty tape that is adhesive on one side and gritty on the other so that a flooring surface is not slippery. There are a lot of common uses for this kind of product. One of the most common you will see if around and in swimming pools. However, there are many other places it can be useful as well.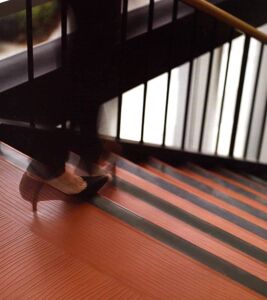 One of the advantages of anti-slip tape is that there is no bump, such as a floor mat would have. So, if a door is close to the ground, it will not catch on the anti-slip tape, where it might have with a floormat. While floormats are very versatile, often absorb water and have other benefits, they also have a higher elevation and can move, so it is not always the best option. That is where using other non-slip options for your floor come into play.
Another problem with floormats are they may get moved, stolen or blown away in a storm if outside. Anti-slip tape is not going to have that problem. It stays where you put it. If it wears down over time, you can simply put more down from your roll.
Beyond the traditional anti-slip tape there is also anti-slip and grip coatings that can be applied to a surface to make the whole area safer. This is better for a broader or irregular area you want to make sure does not get slippery.
There are commercial applications for this as well. Locker room floors are a hazard for guests and a hazard for the business owner if people fall on slippery floors. Also, smooth surfaces outdoor like steps, bleachers, tiled areas and ramps need to have this tape to stop slipping. This is just some examples of where low-cost anti-slip tape can help you protect yourself.
All these solutions are good for outdoor walkways, steps, garages, around water or on docks, on boats and anyplace where people walk but a traditional floormat is not a good option. Whether commercial or residential, the goal is to not have people fall and get hurt. Protect yourself today.