Boating, Docks and other watersports pose a serious risk of injury from slipping on wet surfaces. This can include the deck of a boat, a dock, pool side or any other surfaces where people might walk around water. It is the most obvious danger as we all know that flat, hard surfaces that get wet are slippery when walked on. Also, surfaces like hard wood and plastic can get mildew on them and get very slick even when they do not appear wet.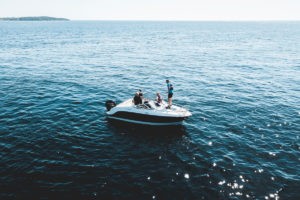 That is why, to keep people safe when doing recreational activities or on water vehicles or simply walking along waterways, you need to add aqua non-abrasive and safety walk anti-slip tapes.
Floormat.com non-gritty, resilient tapes are perfect for anywhere you step or stand while boating. We also supply specialty anti-slip, drain-through matting systems for dock safety and gentle rubber matting for dock plank protection against bare feet.
These floormats are developed to meet the most demanding needs. The safety walk solutions feature an aggressive, slip-resistant, larger grit surface providing more friction in the wettest conditions to protect people walking on it.
If you look at boating accident statistics, drowning is the top cause of death.  Frequently, alcohol is involved in these drownings.  While anti-slip tapes will not prevent people from making bad decisions like drinking too much or not wearing a life jacket, it can help prevent someone who has been drinking from slipping on the deck and following overboard from a boat.  It is important not only to consider the best-case scenario, such as sober and good weather, but to also plan for poor weather or people not being 100% safety conscious.
Another thing to keep in mind, is that boat accident statistics do not usually include slips and falls on docks. Also, more minor slip and fall accidents are not reported, and no doubt happen more frequently than people realize. It is easy to imagine that there are many unreported injuries where people standing on a wet, smooth surface that is rocking around often fall and sprain an ankle or a wrist. They might miss work or need to rest for weeks or months, missing a portion of their boating or fishing season. All of this due to simply not having anti-slip tape added to the deck of the boat.
Water sports are great fun as long as you do not experience an injury. Spend a little bit of money and time, and protect yourself and your guests by having proper floormats and anti-slip tape installed. It is worth the decreased risk.