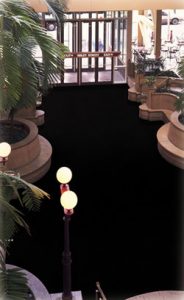 Most homeowners know the importance of floor mats. Truthfully, it seems like nearly every home or apartment is furnished with some type of mat, whether that is a large floor mat, or even just a welcome mat in front of the door. What many people do not realize is that mats are a very important furnishing for businesses as well, and commercial matting comes in all shapes, sizes, and materials. If you are wondering about some of the different types of mats that are available for a commercial facility, read further. Below, you will find a handy guide to commercial mats.

Anti-Fatigue Matting
This type of matting is a very popular choice for a variety of businesses, especially businesses where workers are constantly on their feet and constantly scurrying around all day (like at medical practices, for example). Anti-fatigue mats are made from soft, spongy material that is scientifically designed to provide support for workers' feet, and thus reduce fatigue. If everyone at your office is constantly complaining that their feet are sore, or that they are feeling worn out, then anti-fatigue mats might be the perfect purchase for your office.
Entry Mats
These are similar to the welcome mats that you might have at home, but they are larger and more durable, designed to accommodate all of the feet that cross in and out of your doorway each day. If your place of business sees a lot of visitors each day, especially visitors from job sites, or other places where shoes are likely to get muddy, then it is recommended that you purchase a heavy-duty entry mat in order to help keep your floors clean. These can be purchased in stores, or – for a more convenient option – online.
Logo Mats
Mats that bear the company's logo are very popular choices for business owners, and you can find them at most companies around the country. These mats would be custom-made for your business. One of the main advantages of logo mats, aside from their useful function as mats, is that they would help increase awareness of your brand. Logos and graphics help get your brand "out there" and in customers' minds. The more often people see that logo, the more effective that branding becomes. So, if you are thinking about purchasing new mats for the office, it is a good idea to invest in logo mats and build your brand awareness.
Anti-Slip Mats
Anti-slip mats are a popular choice for businesses with warehouses or production facilities. These mats are specifically designed with one purpose: to prevent injuries in the workplace. Anti-slip mats are very effective at preventing injuries, because the traction that these mats provide will help prevent slips and falls, and will increase worker safety. These mats can also be purchased online, and are certainly recommended for anyone needing extra safety measures to prevent slips and falls. If safety is your top priority (and it should be), consider purchasing an anti-slip mat today.
Save
Save
Save
Save
Save