If you are considering a purchase of a new mat for your business, consider purchasing a logo mat. Logo mats are custom mats that bare your company's logo. These mats allow visitors to see your company's swag as soon as they walk in your door. If you are wondering what logo mats are out there, and how you can best utilize these mats to help your company, read further. Below you will find a handy guide to all things related to logo mats. These mats are a popular choice for businesses small and large, and would be a great addition to your business.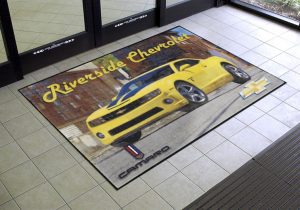 Digital Print Logo Mats
Many logo mats are run through a digital color printer, just like a sheet of paper! This allows for a photo-quality 3-D image to be printed on the mat. Because these 3-D mats need to run through a digital printer, they tend to be thinner than other types of floor mats that you will find. The upside, however, is that these mats allow your logo to really pop, and catch the eye of all visitors. If you are purchasing a logo mat, you would send a digital image of the logo that you wish to appear on the mat. The printer would then send you a proof of the mat. Once that proof is approved, your mat is good to go! These mats are able to be customized to your logo needs.
Inlay Logo Mats
Inlay logo mats are an alternative to the digital print logo mats. Instead of running through a digital printer, the logos on these mats are created by cut, hexagonal pieces of matting. These pieces can come in a variety of colors, and can be arranged to create just about any logo. Unlike digital print mats, these logos are not three dimensional or photo-quality. On the plus side, these mats are much stronger and more durable than the digital logo mats, and are more suited to outdoor use. When choosing between these two logo mats, it is important to know what your needs and priorities are.
Water Hog Logo Mats
As the name implies, Water Hog logo mats are ideal for absorbing moisture, while also displaying a basic logo or lettering. Water Hog logo mats are made from UV resistant polypropylene fabric that makes them great for indoor or outdoor use.  Additionally, the rubber backing on these mats makes them resistant to cracking and curling, no matter what the weather is like. These mats are very durable, and are perfect for high traffic areas. They also happen to be easy to vacuum and clean.
Purchasing Your Logo Mats
Purchasing your logo mats online is ideal, as the internet offers a one-stop shop for all your logo mat needs. This allows you to find the absolute best deal on your logo mat, especially when you take advantage of free shipping offers. If you are considering a purchase of a new logo mat for your company, start surfing the web today.