Most businesses have now installed logo mats as part of their brand promotion and marketing strategy. Logo mats are specially designed floor mats that feature the brand name and trademarked logo of a company on its topside. This mat is usually used to promote a specific brand by a company as part of its marketing endeavors. Most logo mats are custom-made but there are a few logo mats that feature funny slogans and messages. Most non-customized logo mats are installed at home by residential mat buyers. These are the kinds of mats that we find on home doorways with a welcome message across the top. Custom logo mats are usually ordered by commercial and industrial clients. These mats are strategically placed in or outside the business premises to capture the client's attention and install a lasting impression in his mind. As mentioned above, logo mats are mainly installed for brand promotion and advertisement. But they also provide all of the other matting benefits including floor safety, floor protection and cleanliness, and aesthetic appeal. In this article we will look at each of these functional and marketing benefits of installing logo mats in your place of business.
For Brand Promotion & Advertisement
The main reason for ordering custom logo mats is to promote a specific brand. The business owner or corporate clients instructs the mat manufacturer to print a specific brand name, logo, and/or marketing slogan, on the face of the floor mat so that visiting clients can see and note it. Logo mats can be used for periodical or seasonal promotional campaigns to push or promote a specific brand or discount sale. They can also be used for extended brand promotions whereby the company installs floor mats with its own name on the face for longtime brand promotion and advertisement. Some, like Classic Impressions HD logo mats, can be printed with a state of the art digital printer, allowing for 3-D images and fine details.  Logo mats are installed in all kinds of commercial and industrial settings including office premises, restaurants, production sites, retail shops, etc.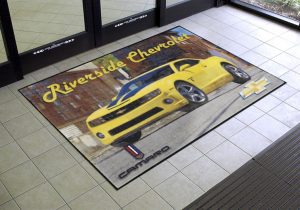 Floor Safety
In addition to their marketing applications, logo mats are also installed for their many functional benefits. Like all the other floor mats, logo mats promote workplace safety by preventing slip-and-fall accidents in the workplace. These mats usually feature a firm grip surface on the backside, and a rough and textured topside to offer traction to the user while on the mat and the mat while on the floor. These are referred to as anti-slip or slip-resistant logo mats. They are sued to prevent accidental falls on wet slippery floors.
Clean Floors
Another functional benefit of logo mats is floor protection. Again like all other floor mats, logo mats protect the interior floors from physical damage and from getting dirty. When installed as entryway mats, logo mats trap dirt, mud, grime, and other debris from outdoors, thereby keeping the interior clean. The logo mats that are placed on the floor protect the hard floors from scraping as people walk on them.
Aesthetic Appeal
And last but not least, logo mats enhance the beauty of any business establishment. If your custom logo mats are professionally done with sharp crisp colors, as often hotel mats are, they will have a positive impression on all your customers. They will also enhance the interior décor of your workplace thereby promoting your business or corporate image to the outside world.