The statistics for injuries due to trips and falls in business around the country are grim.  More than 8 million hospital visits due to these falls occur yearly, and it is the primary reason employees miss many days of work.  Many businesses know the importance employee safety plays in the success of a company, and take precautions to avoid employee injuries at all costs.
Manufacturing facilities invest in anti-fatigue mats for their employees. The benefits of these anti-fatigue mats have been shown to decrease trips and falls employees sustain due to fatigue and long hours standing in one place. Furthermore, these anti-fatigue mats have been shown to alleviate some lower back and leg problems and to increase employees' productivity overall.
Manufacturing work can be physically demanding and can easily jeopardize the safety of employees when standing in one place for many hours. It is extremely important to ensure their safety by providing anti-fatigue mats to help them avoid injuries.
Hospitals, where these patients tend to seek care, are also some of the places where falls occur daily. The alarming rates of accidental falls in hospitals prevent doctors and nurses from discharging patients, and some of these falls can be detrimental to the recovery and well-being of many of these patients.
In clinics, doctor and dentists offices, and all urgent care facilities where heavy traffic occurs daily, it is important to provide the safety needed for all people. Doctors, nurses, patients, and all personnel working or seeking medical care need to feel confident the place of work is safe and clean.
Floormat.com offers custom matting solutions for the healthcare industry, retirement facilities, manufacturing, daycare centers, restaurants, etc. Our products for the healthcare industry are anti-microbial, anti-bacterial, and anti-fatigue to help your employees perform their jobs safely. Our products are a lasting solution to your health concerns.  They are made with high-quality standards, they are durable and perform accordingly. Many of our products for the healthcare industry have an antimicrobial agent to stop the growth of bacteria and fungus in their hospitals and clinics.
Our entry mats are designed to help you fight the accumulation of dirt and other debris from coming into the building.  They are designed to ensure almost 90% of dirt is removed from the under-soles of people coming into your place of business. As a result, placing a Brush Hog entry mat in all major entryways will ensure you have a cleaner and more sanitary place of work.
A logo mat advertising your place of business while providing your employees and customers with the safety they need is an easy choice to make. Logo mats placed at the entrance of your business will give your customers a welcome greeting while ensuring dirt and debris on the soles of their shoes will stay on those mats.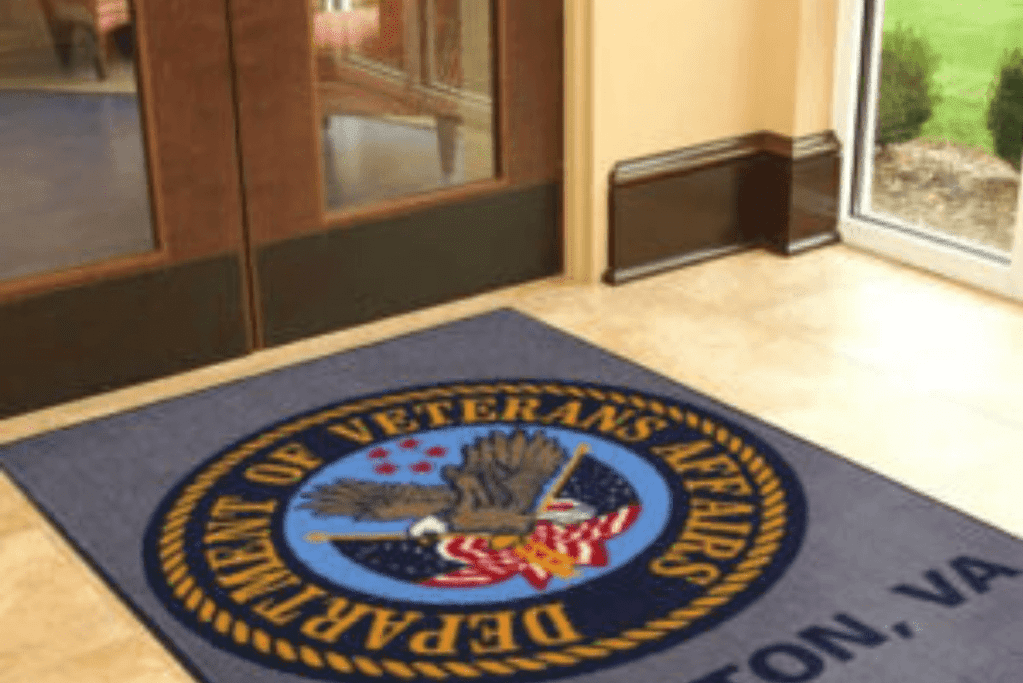 An Aqua Floor Trap Mat during the rainy season is a mat you need for your home or business. This beautiful and highly functional mat will trap the water and germs and leave them at the entrance of your home or business. You do not have to choose between beauty and functionality. These functional mats are designed to perform extremely well while providing a decorative accent to your home or business.
For a restaurant, manufacturing facility, hospital, daycare center, or nursing home, placing the right floormat in high traffic areas, entryways, social rooms or bathrooms are an essential component to their business. They must provide a secure, and clean environment that promotes the well-being of their employees, residents and customers. The right floormat can be a positive addition to a workplace area. It can provide the security and comfort many employees need. Furthermore, placing a floormat to help an employee do their job is a positive message the company sends to their employee. It means their safety is important to them, and they care.