Summer weather is finally here, and after a long break, people are eager to enjoy the weather and their "School is Out" summer days. And our pool and spa mats are a great value!
Swimming pools around the country are going to be busy for the rest of the summer, and the safety around the pool is of the utmost importance for the owners, and the management of those pools. Adults and children of all ages are more likely to fall around a swimming pool because of the wet conditions and the slippery surfaces that are common in such areas. Although falls are a common occurrence around pools, some falls can be preventable.
floormat.com has a great selection of floor mats for every occasion and need. We have specialty mats for your pool or spa to help safeguard the safety of your guests, friends, and family. Our Frontier Floor Mat is specially designed to keep water and debris at the entrance of high traffic areas. The thickly designed mat will ensure debris and excess water will end up at the bottom of the mat, keeping the floor around the area drier and safer. They are easy to clean, durable, and will provide you with the safety your customers and family need.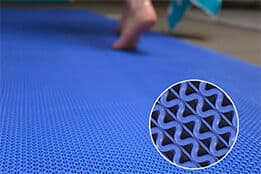 But, if you are shopping for an excellent slip resistance mat with anti-fatigue features, the Wet Step Floor Mat is the right mat for your business. These are excellent mats for many uses with unique features that make them durable. But most importantly, they are anti-microbial treated to prevent the accumulation of odors. The recommended use for these floor mats are many:
Locker rooms where odors and wet areas are abundant, the Wet Step Floor Mat will provide the safety and hygiene your clients, students, and members need. These anti-fatigue mats are specially treated to prevent microorganisms from growing around these areas. Sports teams at schools and universities can benefit greatly from these kinds of mats thanks to the many features and high quality.
Spas where water is a constant presence on the floors, this Wet Step Floor Mat will give your members the security to step out of pools, showers, and hot tubs with ease. Water accumulation and dangerous slippery floors can be danger zones for many of the clients that visit these places. However, the many features these mats have will keep water to a minimum and the floors drier around these dangerous zones.
A Wet Step Floor Mat is essential in every home. The bathtub or shower are places where accidents happen regularly. A floormat will give you the assurance to step outside the tub or shower without feeling in danger of falling.
Medical Rooms-These specialty mats are highly recommended to use in operating rooms and medical scrub areas. These high-quality and anti-microbial treated mats make them an invaluable item to have in hospitals, clinics, or doctors' offices.
The price you pay for a floor mat for your business is little compared to the benefits it brings you. In addition to bringing you the safety you need around the pool areas, locker rooms, medical rooms, and offices, these floor mats allow you to keep your floors dry, debris-free, and looking new for many years. High-traffic areas where spills and falls are likely to happen make them dangerous for employees, clients, and everyone involved in the operation of the business.
By placing the right mats at the entrance of the pool or spas where there is heavy traffic, the likelihood of falling decreases. Consequently, your business becomes safer and cleaner for everyone. Above all, your employees, members, and everyone using and enjoying the pool or spa know the business care about their well-being. In hospital rooms where the danger of falls is detrimental to the well-being of patients, floor mats can play an important safety measure they need to take to ensure the safety of their patients.
For every business and every need, we have the right floor mat to help you ensure the safety of everyone involved in the operation of your business. Do you need a logo mat? We have it. Do you need social distancing mats and anti-bacterial floor mats? We have them also. Our huge inventory of floor mats, disinfectants, and signage products follow CDC health guidelines and safety standards to help you keep your employees and customers safe.
floormat.com is committed to providing you with all the safety and signage products to help ensure the safety and health of everyone involved in your business. If you have any questions regarding our products, services, or hours of operation, call us. We will be happy to answer any questions you may have about our products and services.