The manufacturing industry in the United States is one of the top 5 industries in the country. It employs close to 400,000 workers in the production of computers, automobiles, home appliances, sports equipment, etc, and it's considered to have a value close to one trillion dollars.
Transportation, food production, chemical, furniture, and automobile manufacturing, are many of the sectors in the manufacturing industry that are essential to the economic growth in the United States. Because of the difference in work environments, the manufacturing industry is plagued by work-related accidents. According to the Department of labor and statistics, slips and falls at the workplace are a leading cause of occupational fatalities and injuries in this industry.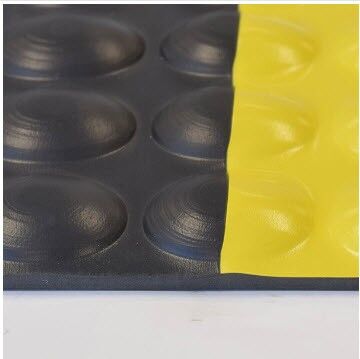 That's one of the reasons why at floormat.com, we want to make your workplace safer for all employees, no matter what industry they are in. Manufacturing jobs can be repetitive and exhausting, making it more likely that accidents will occur. Your employees should be able to work safely and effectively during their shifts without fear they will be the next casualty.
At floormat.com, we will provide the floor mat your industry needs to keep your employees safe. We can offer you floor mats resistant to oil, grease, and chemicals. We offer floor mats that are engineered to last, provide you with the safe environment your workplace needs, and have the right price attached to them. Slips and falls can be preventable. At floormat.com, we will help you make your business safe, so you can concentrate on other issues.
Overexertion and repetitive motion are the second reasons employees miss work because of injuries. Machine operators and technicians spend a lot of time on their feet each day. You can provide them with cushion station mats and anti-fatigue mats to give them the support they need to perform their jobs safely and well. The number of workplace injuries that employees sustain from fatigue has been shown to be lower with the use of anti-fatigue mats. This reduces the chance of injury, missed workdays, or even death.

Bubble Trax Anti Fatigue Floor Mat reduces the discomfort experienced by technicians and machine operators while standing for long periods of time. Long shifts for technicians and machine operators can cause back pain, leg and foot discomfort, which can lead to decreased productivity. An Anti-fatigue floor mat can reduce their discomfort and increase their productivity. These floor mats are engineered to provide safety and durability for any business.
The Bubble Trax Anti-Fatigue Mat can be used for more than just manufacturing. This floor mat is vital for the restaurant industry. Restaurant workers spend hours on their feet in stressful environments. It is common for food and grease to spill around the sinks or cooking areas. If the restaurant's floors are not equipped with durable, anti-slip, and grease-resistant floor mats, the likelihood of having serious injuries increases.
The Bubble Trax Anti-Fatigue Mat with its 1″ thickness will prevent spilled liquids from spreading making the floors slippery and dangerous. The mat's anti-slip features will prevent restaurant workers from unsure footing when they step on and off the floor mat. These mats will provide safety for your business and keep your employees safe.
If you don't find the right size of a floor mat, we can provide a custom mat for your entrance or vestibule. We have the experience and knowledge to help you find the perfect mat for your restaurant. We can also provide a logo mat to welcome your customers at the door of your restaurant and an interior mat for your customers to step onto a dry, welcoming place. Floormat.com will help you ensure the safety of your employees and customers by installing the right floor mats in your business.
The Brush Hog Plus floor mat can be placed at key entryways to reduce dirt and water from entering the premises. The mat will reduce the accumulation of snow, rainwater, and other debris from customers' and employees' shoes. These specially engineered floor mats offer the safety, cleanliness, and long-lasting durability you are looking for in a floormat.

No matter what industry you are in, we have the right floor mats for you. We will ensure that you receive a high-quality mat that meets your expectations. We are the company that you can rely on to provide the best floor mats for your business. Get in touch with us today.