Should you spend money on good floormats or just buy a cheap door mat?
You definitely do not want a super cheap door mat, because it will not last and might be dangerous if it does not sit flat and stay in place. A good floormat is going to reduce your risk of falls and keep your location cleaner. A cheap floormat might be a trip hazard and also shred into pieces, adding trash to your floors. It also might not have any way to absorb water or catch it in rubber groves, so your floors will become wet and slippery when it is raining or snowy outside.
When shopping for a door mat, you might overlook a good quality entry floormat because they are often sold on websites more focused on businesses. But even a home can benefit from a heavy duty floormat for entrances because it will last many years and do a better job of keeping the home safe.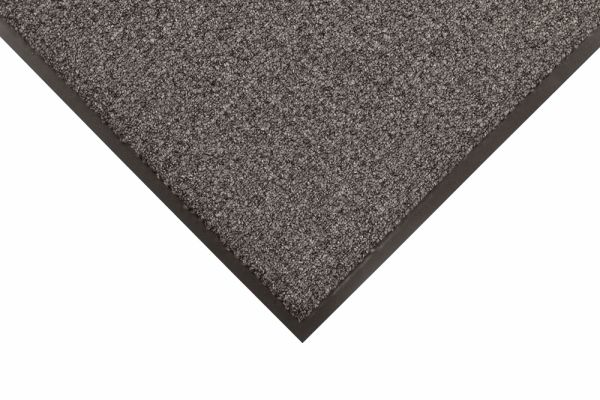 A better quality floormat instead of a cheap door mat is going to be backed with material that reduces movement and slipping. It also is designed to withstand a lot of foot traffic, so it can be walked on for years without wearing out. A cheap door mat will not hold up for very long.
Washing and sanitizing is also a priority for manufacturers of industrial-grade floormats. They know that these mats need to be cleaned and maintained, and they are designed to make that easier and for the mats to hold up to regular cleaning and disinfecting. You can also buy the cleaning solution for floormats right from the floormat.com website. It is designed to be safe and effective for good floormats. However, we cannot say how long a cheap door mat will hold up with good, deep cleaning so be advised that it is a risk.

You might not be aware, but you can also buy heated entry floormats that keep the snow melted in front of your home or business. This reduces the risks of falling and means less time spent shoveling snow and laying down rock salt. Entryways frequently collect water and snow and then ice up over time, becoming a very dangerous place where homeowners or business customers can fall and get seriously hurt. A cheap door mat is not going to help you with this problem. It will probably not even hold up to people cleaning their snowy shoes on it over time.
This article is not to say you need an expensive door mat. But door mats that are low cost in bargain stores are a risk and you will be replacing them sooner, rather than later. Instead, consider getting a good quality entry floormat from Floormat.com and enjoy it for years to come.