The Uses and Benefits of Using Floor Mats
Hospitals

The importance of installing floor mats in key areas of a business has never been more important than right now. The seasonal flu is one of the main reasons employees call off work due to the many symptoms they experience during their illness. Adding the seasonal flu with this Covid-19 pandemic, and the health of your employees could be at risk. Now more than ever we need to practice great hygiene habits, and train our employees to be safe in the workplace.
Social distancing floor mats and signs are a necessity every business needs right now.  The use of disinfectants, soaps, and antimicrobial floor mats can be the difference between having half your workforce absent or showing for work every day.
If you are in the healthcare industry, there are many patients that are admitted to hospitals, clinics, doctor offices for other illnesses than Covid-19.  Providing a safe environment when they enter the premises should be your priority right now.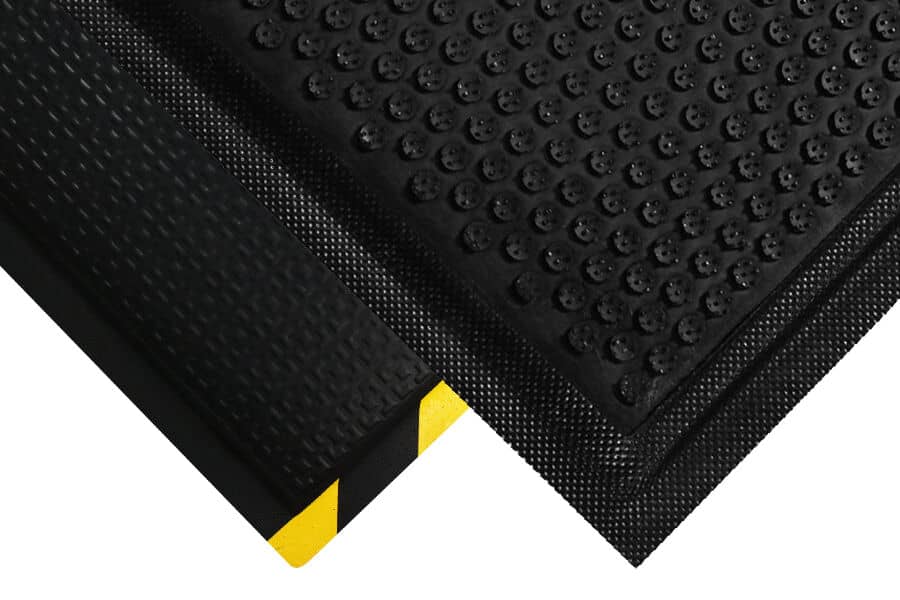 Patients entering the hospital or doctor clinics where floors are slippery can suffer injuries due to trips and falls sustained during these visits. How can one prevent these injuries? Placing a snow melting mat at the entrance of the building or office can prevent many of these injuries to elderly patients. Slips and falls in many hospitals mean their patients need to stay longer to recover from the illnesses and falls they sustained while in their care. Interior mats placed strategically in many hallways, rooms, showers, rehab rooms, etc, are critical to the recovery and well-being of many of these patients.
We cannot stress enough the importance and need for floor mats in many businesses. Hospitals because of their nature have many places where slips and falls are common. Those falls can be preventable with the right floor mat, and some of those falls could be minor instead of fatal.
The use of mats in hospitals is not without its drawbacks. The Agency for Healthcare Research and Quality, outlines many of the prevention practices hospitals need to adopt in order to prevent falls with patients. The use of mats in these facilities is abundant, but when using them with elder patients or other patients where mats can be a danger to their safety, the floor mat usage has to be monitored more carefully.
Nursing Homes
36% of falls among the elderly in nursing homes facilities are preventable. Regrettably, 75% of nursing homes residents fall every year, and some of these falls require hospitalization, surgeries, or long rehabilitations. In many cases, we know for a fact many of these falls can be preventable. The Nursing Home Abuse Center website has an abundance of information regarding the prevention and care of residents of nursing homes. One of these preventative measures is the implementation of floor mats in their facilities.
Thankfully, this important practice is consistently used by many nursing home facilities to prevent slips and falls in areas they consider to be high-traffic areas. For example, floor mats are consistently placed on dining areas, entrance doors, and recreational rooms where their residents congregate and where the probability of an accident is higher. Anti-slip floor mats are a necessity in many of these areas, and the residents and visitors alike can safely walk into the facility without fear of slipping or falling.
Private Sector

Slips and falls in the private sector are substantial. According to the U.S. Bureau of Labor Statistics, there were 244,000 accidents due to falls, slips, and trips in 2019 alone. There were about 300,000 cases involving sprains, strains, and tears. And more than 130,000 cases involving back injuries.
Many of these injuries require hospitalization and many of them can be fatal. In 2018 alone, there were 791 deaths due to slips, falls, and trips.
The use of floor mats can be a preventable measure many businesses can adopt to ensure their employees are safe and at the end of the day productive as well. The floor mats usage in a business won't stop accidents from happening, they can only help you prevent many of the injuries your employees suffer or mitigate the seriousness of the injuries.


Residential Homes
Floor mat usage in a home is a necessity. The indoor floor mat or the snow-melting floor mat can offer the cleanliness you need to ensure family members or visitors don't fall or trip on slippery floors. If you are worried about the clash to the décor of the home by using a floor mat, you need to browse our big inventory of indoor floor mats we have. These floor mats can offer the safety you need while providing an accent to the décor of the home. Do you have a personal gym at home? Then you know the importance of placing the right floor mat on the floor. Mitigating the noise and slips and falls during a workout should be your priority when exercising at home.
We, at floormat.com, have a huge inventory to offer you the right floor mat for your home, office, or business.

Entry Mats: Entry mats placed at entrance and exit doors to capture rainwater, snow, and debris will protect your visitors, employees, and residents from falls and slips and keep the floors cleaner and safer.

Interior Mats: Not only do interior mats offer the safety you need but can provide a decorative aspect as well.  Interior mats are certifiable slip-resistant and can be a colorful addition to your home or business. They are durable, high-quality mats your home or business needs.
Foot Warming Mats: Nursing homes and private homes with older people can benefit from this kind of floor mat. Some nursing homes have an open concept that makes recreational rooms colder than necessary. Foot warming mats placed in such rooms can make the stay of the residents pleasant and inviting.
Anti-Fatigue Mats: Manufacturing companies, auto mechanics shops, and retailers where employees spend many hours on their feet can benefit immensely by placing anti-fatigue mats. There are many studies that have shown an increase in the productivity of employees when using anti-fatigue mats, and a decrease in injury-related accidents.
At floormat.com our huge inventory of floor mats for your home, business, or recreational place has everything you need. Choosing the right floor mat for your business will be easy. Our high-quality floor mats won't need replacing every few months. They are highly durable with the right price tag.
Caring for your Mats
Buying high-quality mats are the first step in ensuring the safety of your employees, residents, and visitors. Taking care of your floor mats should be taken seriously. Their durability and appearance can last longer the better care you give them.
Follow the manufacturer's instructions to care for your mats.
Buy high-quality disinfectants and soaps to clean and protect them.
If you see wear and tear around the edges, call your provider to see what solutions they offer.
If the edges or cover of the mat are too damaged, you must replace them. Edges on the mat that curl can be a hazard to your employees, visitors, and residents in a nursing home facility.
Sanitize your mats to stop the spread of viruses in the workplace, home, or nursing home.
Professionally clean your mats after the winter months to keep them looking nice; especially where salts and other debris might accumulate from the outside.
The bottom line is that you can stop the transfer of pollutants from the outdoor into your place of business or home by placing floor mats at entryways, exit doors, and stairs. An anti-microbial floor mat at the entrance of your home or business can stop more than 2/3 of germs and debris coming from the outdoors. A well-placed mat can greatly decrease the number of pollutants entering your home and the transfer of them to other rooms in the house.
Contact us today to talk about your floor mats needs.