Updating school floormats is essential for the new year. After two years of uncertainty due to Covid-19, Businesses, schools, universities, long-term health facilities, etc., are beginning to go back to their pre-pandemic routines and schedules. You want things to look new and fresh.
Public, private, charter, and all other schools need to start preparing for another school year and everything that comes with it.  It is difficult to implement safety measures
Any school system in the United States deals with thousands of people on a daily basis.
It is imperative for them to provide disinfectants, soaps, and cleaning supplies that will decrease the rate of infection among their student and teacher populations.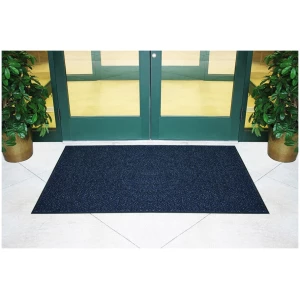 For any school or business in need of disinfectants, we at floormat.com have everything you need to keep your school or business safe. Plus if your school needs to be prepared for all kinds of weather during the school year to keep your teacher and student population safe, we at floormat.com have many of the floor mats you will need to open for the school year. Most importantly, the floor mats we offer are made with 100% post-consumer recycled PET fabric from plastic bottles. We want to provide a safe, environmentally-conscious option for your business or school by providing floor mats that are made from recycled materials.
At floormat.com, we have a huge inventory of floor mats to give you many options you can choose from and a wide range of prices for you. We want to ensure the floor mat you choose is safe, durable, engineered to last, and has the right price tag. And even though our floor mats are engineered to last, the prices we offer are fair for your business.
Whether you are getting ready for a school or business, college, or university, the rainy and winter seasons can play havoc with the safety and cleanliness of your premises.  For a school, the high traffic areas, entryways, and social halls where the student population is high, durable, and sturdy entryway floor mats are the only option. The wet floor on entryways is especially dangerous for students and staff, that's why at floormat.com we offer a wide range of floor mats dedicated to protecting these areas.
For example, the Bristle Floor Mat is specially designed with hard-wearing nylon bristles to clean the footwear of students and staff entering the buildings.  This floor mat is designed to be resistant to all weather conditions, collect dirt and keep it from view, and it is easily rolled up for storage. But, one of the best features of this floor mat is the easy maintenance and durability you will be getting with it.
And if you are not convinced about the qualities of the Bristle Floor Mat, we have another option for you.
The Guzzler Floor Mat is intended the used in high-traffic areas.  As with the Bristle Floor Mat, the Guzzler Floor mat will scrape and clean the soles of the shoes of anyone entering the building.  It will entrap the dirt, water, and snow and keep them from entering the premises.  Your floor will be safe for your students, teachers, and staff.  Also, one of the most important aspects of this floor mat is the molded rubber "cleats" on the underside of the floor mat that will keep it from slipping across the floor. Plus the thickness of this floor mat will ensure it will last for many years.
If you are not convinced about the qualities of these floor mats, we want to recommend the Waterhog Eco Elite mat to you. First and foremost, this is an entryway floor mat specifically designed to hold up to 1 1/2 gallons of water per square yard. Because of this huge capacity to contain snow, water, and debris, our Waterhog Eco Elite mat will be the only entryway floor mat your business needs. Also, with its 3/8″ thick bi-level surface, it is meant to capture and contain water and debris effortlessly. Keep in mind that these floor mats will keep your floors clean, but most importantly, they will keep your student, customers, and employees safe.
If you are in charge of a public or private school, college, or university, it is imperative to provide a safe and clean environment for everyone around. The easiest option is to provide floor mats for the entryways to keep everyone safe. But, what about the other parts of the school, college, or university? How about keeping a safe, clean, germ-free environment for your athletes, coaches, and other personnel? At floormat.com, we offer every floor mat you may need for your gyms, swimming pools, bathrooms, and exercise rooms.
 For example, the Weight Room Floor Mat is an essential part of your weight rooms and gyms. These heavy-duty gym mats absorb the crush, clank, and noises of free weights when members and students are using them for conditioning.  These floor mats will also offer protection against the wear and tear of the original floors in the building. And what about other parts of the buildings?  We have a huge selection of floor mats for you.  We have floor mats to protect the areas around the locker rooms, showers, swimming pools, and bathrooms.
School kitchens are high-traffic areas where spills, falls, and accidents are common. These places are dangerous places where the probability of an accident is pretty high. For these places, we have the Aqua Trap Floor Mats. These floor mats are installed at the entrance of these dangerous areas and are highly effective in trapping liquids and debris. They are antimicrobial, rubber-backed floor mats that are engineered to last. Plus, if you think this floor mat will crash with the decor of your business, think again. This Aqua Trap Floor Mat is very fashionable that will add an accent to the decor of any room.
Many businesses want to provide their employees with a safe workplace every day. The danger of slips and falls in many of these businesses is a serious worry for many of their employees. Installing floor mats across the premises to provide the safety many of these employees need, is a minimal expense you cannot afford to ignore.
Contact Us today to talk about pricing, wholesale pricing, availability, and installation, of many of the floor mats we have for your business.