Commercial mats, also called industrial floor mats, are used for various floor matting applications in the business or commercial setting. Unlike ordinary residential mats, which are similar in design according to the intended application, commercial floor mats feature customized or specialized design features depending on the specific industrial application. As such, you will a very wide range of floor mats in the commercial setting all spanning the four main matting categories. In other words, there are many different logo, heated, outdoor, and indoor entrance mats in the business industry. Basically, the heated mats are for warming up the workplace, the logo mats are all about messages and signs, and the entryway mats are designed for doorways. You will also get lots of safety mats with all kinds of functional features depending on the industry, site of installation, and specific application. There are all kinds of functional reasons for investing and installing commercial floor mats but they can all be summed up into the following:
Safety & Protection
One of the main reasons for installing floor mats both at home or in the workplace is to ensure the safety and protection of the human traffic and of the floors. Commercial floor mats are particularly meant to ensure workplace safety by preventing various occupational hazards like slips and falls, electrical & electrostatic shock, and many other site specific risks. Commercial floor mats are very critical in protecting both you workforce and your customers from getting injured by various industrial hazards.
Commercial mats are also used to protect the building floors from scrapes and scratches. Industrial sites are usually characterized by heavy foot traffic and the movement of heavy loads and machinery. This necessitates the design and installation of very thick, high density, and cushiony mats made of very tough and durable materials like rubber and vinyl loop.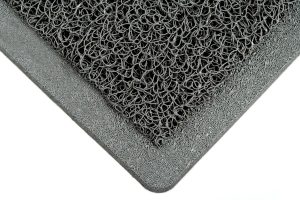 Workplace Comfort
Most industrial floor mats are now designed with special anti-fatigue features in order to reduce physical strain and physical exhaustion among workers and thereby keep the workforce healthy and productive. Anti-fatigue mats are floor protection covers with specially designed functional features for ergonomic comfort. Usually installed in commercial and industrial settings, anti-fatigue floor mats come in a variety of shapes, sizes, design specifications, colors, and functional attributes. Although we define usually fatigue in terms of physical exhaustion only, workplace fatigue extends to all forms of physical discomfort, which can undermine personal contentment. In other words, fatigue in the workplace is caused by all kinds of tiresome or strenuous activities plus all exposure to any type of uncomfortable workplace conditions like very cold or very hot temperatures in the workplace. Heated floor mats are special types of anti-fatigue floor mats that are fitted with heat generating electrical circuits in their body in order to provide warmth in the office or any other commercial environment.
Communication & Advertisement
Another importance of using floor mats in a business environment is for communication purposes. Some specialized floor mats called logo or message mats are used to pass various graphical messages in the workplace. Logo mats include safety signs and markers like fire exit signs, slippery floor markers, and restricted access markers. We also have customized logo mats, which are embossed with corporate logos and names, for advertisement purposes.
Most commercial floor mats feature a combination of several functional specs for multiple applications. For instance, a slip-resistant industrial floor mat can also be grease, oil, and chemical resistant with all the requisite ergonomic properties, giving you a host of reasons to purchase it.