Now that things are heating up, upgrading or replacing your pool mats should be a top priority. Whether you have a pool in your gym, a spa, or a locker room shower, it is time to get fresh floormats that will make the wet floor safer and show that you take people's health and safety seriously.  Even if you only have a home pool, getting a pool mat for around the pool makes your pool safer and keeps the pool cleaner.
Floor mats for pools and locker rooms are going to be vinyl and be resistant to chemicals commonly used around pools, saunas, and locker rooms.  If this is not the case, then your mat will not last long.  Luckily, the variety of mats provided by Floormat.com are manufactured to resist chemicals, resist fungus and mildew, and be UV stable.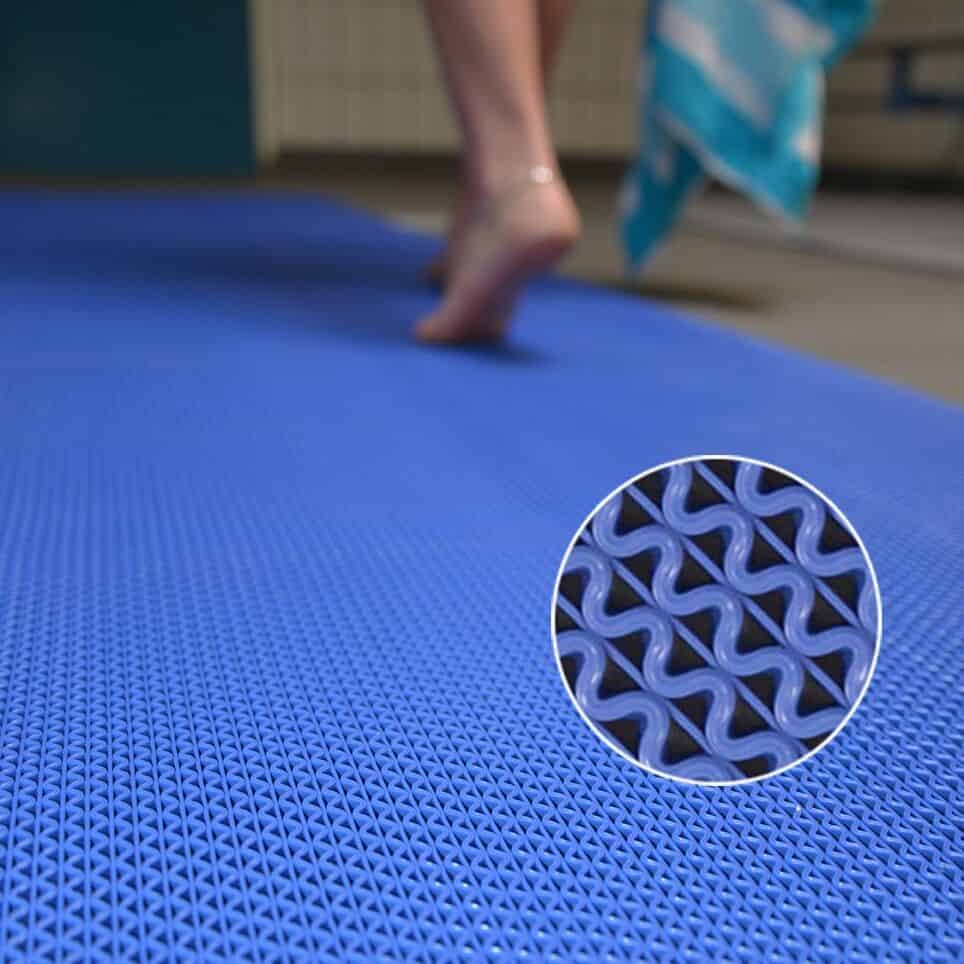 Their open construction will allow water to run through the matting while it remains comfortable for people to walk on in their bare feet.
You also want any pool floormat to be lightweight so you can move it and easy to clean because, especially outdoors, you will need to clean them sometimes.
Pool floormats like the Web Trax have an open Z-web construction which makes them stay drier than their surrounding areas and they are able to be moved easily and cleaned easily. These mats are perfect for pools and locker rooms. They are also good for around hot tubs or saunas.
These wet places are common areas to slip and fall.  Serious injuries can occur.  Even if it is just your home pool or hot tub, you do not want family members or guests to have an accident.  Any time you can spend a little and get a lot of safety value, it is a good thing.  Having Web Trax floor mats around a pool will improve the enjoyability of your pool space, making the area more comfortable to walk on, as well as improve the safety. 
Also, very good news.  There are a variety of sizes and you can get cheaper pool mats if you buy six or more.  This means you can get the sizes you need to easily achieve the deck coverage required and also save money.
If you want to add more grip to the pool mats, you can use Liquiguard Gripcote as well to add a non-slip coating for any typical pool mats used around your deck or spa.